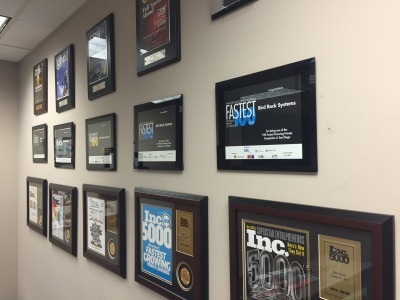 Year after year, Bird Rock Systems pulls out the hammer and nails to hang up plaques that they have been awarded for their continued success and growth.
Well we did it again! Bird Rock Systems has found itself ranked in the 2015 Inc. 5000 Fastest Growing Private Companies at #3185. This year's growth from the prior year boasts a 107% revenue increase! The plaque now hangs nicely next to the 4 other Inc. 5000 plaques dating back to 2011.
But this wasn't the only award that Bird Rock had to make room for on their wall of accolades. Above the Inc. 5000 plaques, there is a similar looking row of San Diego's 100 Fastest Growing Private Companies. This year Bird Rock ranked #64 as the 2015 Fastest Growing Private Company in San Diego! This falls in line with the 4 other plaques also dating back to 2011.
Above these plaques are the 5 CRN Fast Growth 150 awards dating back to 2010! Looks like we need a new wall with the 5 Inc. 5000, 5 San Diego Fastest Growing Private Companies, and 5 CRN fastest growth filling up all the space.
Bird Rock is doing something that the young kids refer to as "killing the game." But for Bird Rock Systems it's not about hanging up an award and basking in our successes.
We use these plaques as a constant reminder of our values. It was not just luck, fate, or chance that Bird Rock has placed itself where it is today. Headed by the brilliantly cool CEO, Jim Matteo, Bird Rock Systems has developed a culture of building strong relationships, being advocates for technology, holding ourselves to the utmost integrity, and giving back to our community. We can sum this up as a culture of truly genuine people that have a passion to not only make the hectic lives of IT professionals easier but to help those in need outside of our working environment.
Bird Rock Systems looks forward to continue to provide our customers with best of breed technology and impeccable customer service each and every day!
"No worries…We make I.T. better!"
Call us at 858.777.1617 or email us at info@birdrockusa.com.